Tanning Essentials - Everything You Need For Self-Tan Success
Looking to achieve a perfect sunkissed tan without breaking a sweat? We've got you covered. 
In this guide, we show you how you can achieve a streak-free bronzed tan for a natural-looking glow, with some of our favourite self tanning products and accessories. 
Preparation is Key!
The key to achieving a flawless tan lies in perfecting your  preparation. Our best tip for preparing your skin prior to tanning would be to exfoliate and shave/wax at least 24 hours beforehand for a flawless result. If you've skipped this step in the past, you may have found your tan to be patchy or uneven. 
Some of our favourite tanning tools for a smooth, flawless complexion would be our  Exfoliation Mitt and  Coconut & Sea Salt Body Scrub - both will help to remove dead skin cells for the smooth, silky skin.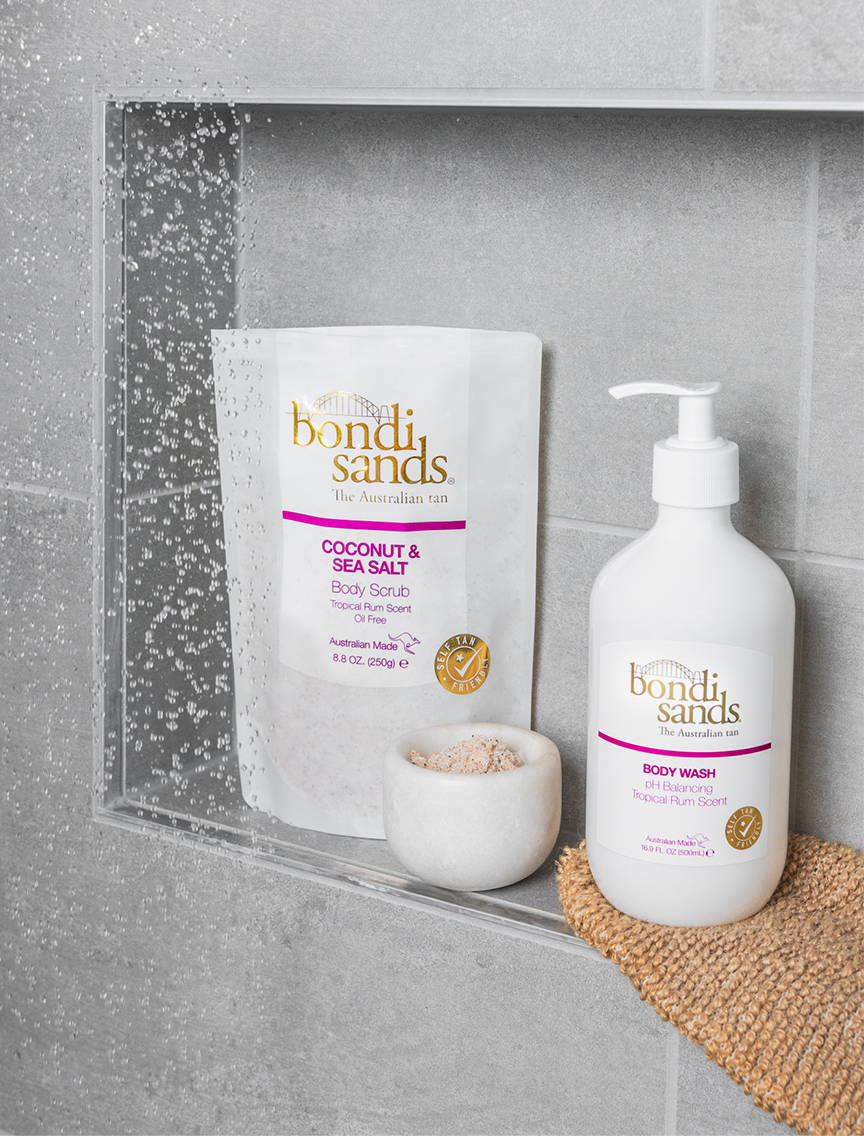 Next up, it's time to moisturise. Applying a light layer of hydrating moisturiser such as our Tropical Rum Body Moisturiser  after your shower will help keep dryness at bay. Right before you tan, we'd recommend applying moisturiser to typically dry areas like your hands, feet, knees and elbows to prevent tan from clinging in those areas.
Find your shade
To achieve the best results from our tanning products, it's best to pick the right ones for your skin tone. But, how do you know which is the best shade? Let's take a look:
Light/Medium Self Tanning Foam
For those with light to medium complexions, our Light/Medium Self Tanning Foam is a perfect fit. This product is also great for first-time tanners who are looking for a sunkissed, subtle glow. 
Dark Self Tanning Foam 
If you have medium to olive skin or are looking to achieve a darker glow, try our  Dark Self Tanning Foam. Developing to a deep, bronzed glow, our Dark Foam is a Bondi Babe fave and a best-seller! 
Ultra Dark Self Tanning Foam
Seasoned tanners and those with dark complexions looking to achieve the deepest glow love our Ultra Dark Self Tanning Foam. This product has dual tanning activities to take your tanning routine to the next level.  
Tanning oils, milks and lotions
Want an easy and quick application without needing to wash off the residue? Why not try our Gradual Tanning Products or Liquid Gold Dry Oil? A crowd favourite, our Everyday Gradual Tanning Milk is the perfect way to build your tan and can be used daily for hydrated, nourished skin. 
If your skin is on the drier side, try our  Liquid Gold Self Tanning Oil. This product is packed with hydrating Argan Oil and requires no wash off, developing over six hours for a golden, glowing skin - simply glow, and go! 

Tanning accessories
Fed up with self-tan all over your sheets? Or frustrated that your hands always go patchy? Then, check out these tanning accessories for a fuss-free application. 
Self Tanning Sheet Protector
Tan marks all over your bed sheets used to be a frustrating part of the tanning process. But that's not the case anymore. With our Self Tanning Sheet Protector, your tan will develop without transferring all over your fresh bedding. Designed to prevent your tan from creasing for a flawless result.
Self Tanning Robe
It's always best to avoid tight clothing when your tan is developing, so our Self Tanning Robe makes this step more comfortable while you wait and marinate. The robe is made from a  satin fabric, which is soft against the skin. Plus, it's perfectly oversized to prevent transferring or creasing. 
Self Tanning Pillow Protector 
 Alongside your sheets, your pillow can get pretty messy too. However, with a Self Tanning Pillow Protector, you don't need to worry about self-tan transfer or creasing on the skin while you get your beauty sleep.  
Self Tan Drying Powder & Brush 
 Try our Self Tan Drying Powder and Brush if your self-tan feels a little sticky around your inner knees and elbows. This lightweight, translucent powder helps  dry down typically sticky areas  for a more comfortable tanning experience. 
Application Mitt
 No self-tan routine would be complete without an  application mitt. This washable and reusable Application Mitt helps to  give you a smooth and streak-free finish. It's also great for preventing tan from settling and developing on your hands.  
Back Applicator
 Reaching your back is often tricky unless you have a helping hand applying tanning products. However, with our Back Applicator, it doesn't have to be. Just lock the applicator into place, apply your Self Tanning  product to either side and blend onto skin using  vertical strokes for best results.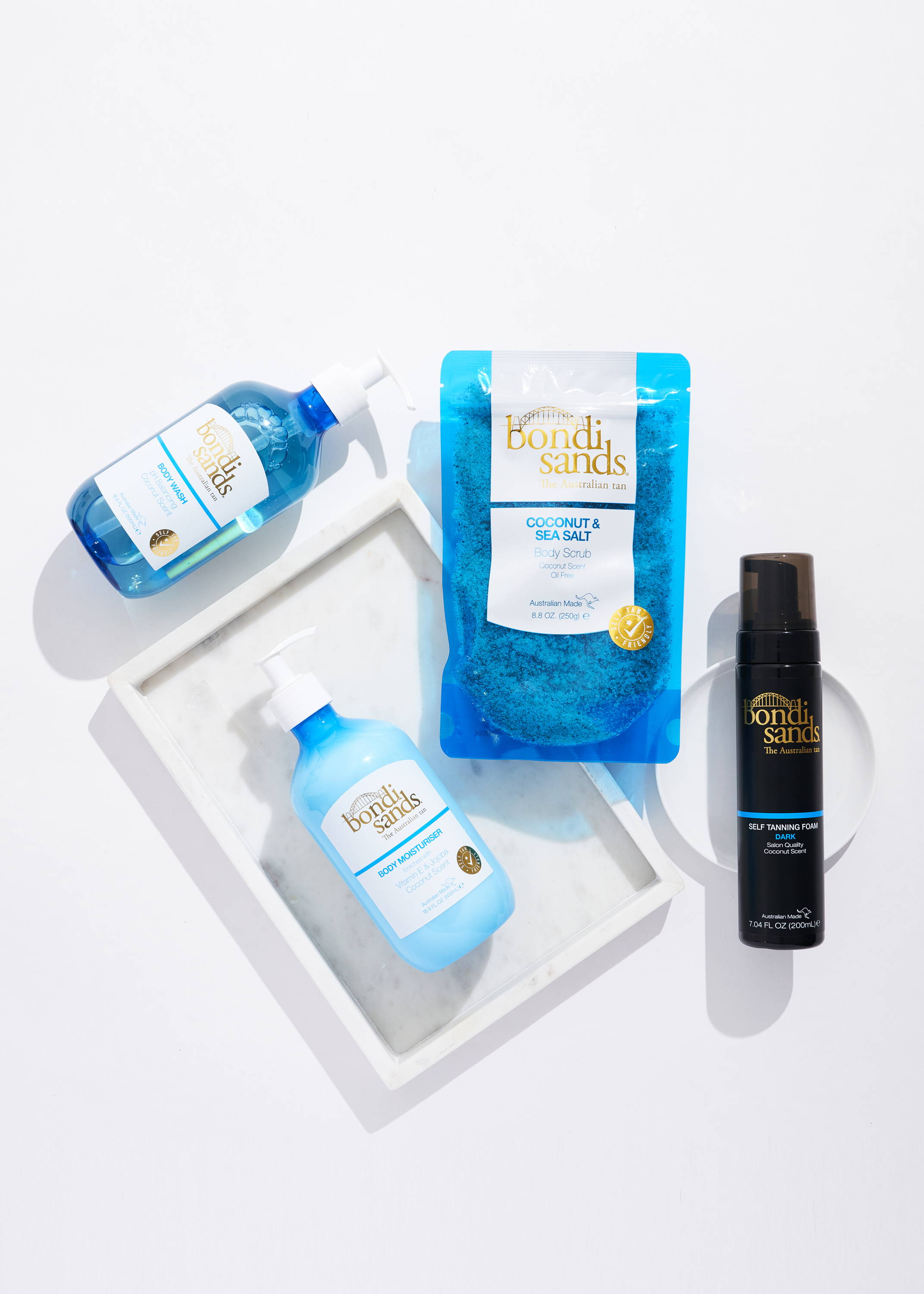 Bundles
Self-tan bundles are a great way to get everything you need for a great price. Check out our top picks:
Ultimate Bondi Babe Bundle 
Our Ultimate Bondi Babe Bundle contains seven of the best tanning products and accessories to achieve a beautiful bronzed look, including Self Tan, Self Tan Eraser and Application Mitt. 
Classic Bondi Babe Bundle 
 Achieve the iconic Australian tan with our top sellers in the Classic Bondi Babe Bundle. With two Self Tanning Foams, our Liquid Gold Self Tanning Dry Oil and an Application Mitt, you have everything you need for golden, glowing skin.
Starter Bundle 
 New to self tanning? Our Starter Bundle includes smaller-sized products to help you get a feel for your tanning routine. Plus, they're also great travel companions to keep your skin glowing all summer long.
For more tanning tips, check out our guide to self tanning for beginners for our top tips and tricks for achieving the perfect golden glow.